The Business of Editing
Richard H. Adin
Waking Lion Press is proud to announce the release of a new book, The Business of Editing, by Richard H. Adin of Freelance Editorial Services. Drawing on Rich's 30 years of experience as an editor, the book provides a definitive perspective on the nature of editing as a calling, as a skill, and especially as a business. It discusses the roles, tools, processes, profits, career, and future of freelance editing—460 pages of solid thinking and useful advice for anyone who makes a living working with words.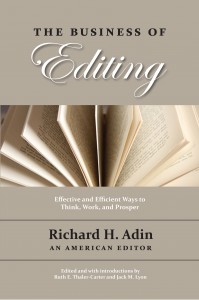 The essays in this book originally appeared as posts on Richard H. Adin's blog, An American Editor, but here they have been grouped by topic in a smooth and logical sequence and meticulously edited for consistency by Ruth E. Thaler-Carter of Communication Central. In addition, a thorough index by Susan Nedrow makes it easy to find the information you need. This compilation will prove valuable to new and established editors who are committed to both editorial quality and business success.
The suggested retail price is $29.95 for the paperback, $34.95 for the hardcover, and $24.95 for the ebook version. Discounted pricing may be available at bookstores and other retailers, such as Amazon and Barnes and Noble. If you're in the business of editing, you need this book. It's not an expenditure; it's an investment in your future.
You can download sample chapters, with the table of contents and index, here.
Ordering the trade paperback
You can order The Business of Editing in trade paperback here:
If you're ordering from outside the continental United States, please order here:
ISBN 978-1-4341-0369-7
460 pages
6x9 paperback
$29.95
Ordering the jacketed hardcover
You can order The Business of Editing in jacketed hardcover here:
If you're ordering from outside the continental United States, please order here:
ISBN 978-1-4341-0372-7
460 pages
6x9 hardcover, jacketed
$34.95
The book is also available (sometimes at a discount) at Barnes and Noble, Amazon, and other online retailers.
Ordering the ebook version
If you prefer, you can order The Business of Editing as an ebook, in ePub format.
In praise of The Business of Editing
"This collection of essays is a must-read for any editorial freelancers who own their own business. Covering both theory and practice, Adin's no-nonsense approach to the business of editing will appeal to new starters and seasoned pros alike. Highly recommended." Louise Harnby, proofreader
"I rely on the American Editor to help train my mind to view editing as a business as well as an art and craft. I entered the field with zero business acumen and have learned enough from this resource to not only ensure my survival as a freelancer, but also to do very well if I apply and incorporate more of the practices and tools so generously shared and meticulously explained." Carolyn Haley, DocuMania
"Should you be contemplating starting as an editor, or even if you have been one for quite some time, this highly readable book will certainly offer you ideas, information, and techniques that will make your work so much more pleasant and effective. An absolutely essential book to read and learn from." Tony Cole, owner, eBookAnoid (www.ebookanoid.com)
"That rarity—as good at the business as he is at the craft, Adin is an editor with decades of experience who is always looking to the future!" Benjamin Lukoff, author, Seattle Then and Now
Copyright© 2013 by The Editorium, LLC. All rights reserved. Contact us by email.